The Review
Arguably the best rucksack ever? Quite possibly so, depending on your perspective. The Simond Cliff II 20 litre rucksack is a minimalist lightweight climbing rucksack. It is not a comfortable bag for hillwalking, it is not very durable and has very few features to speak of, so how can it be the best rucksack ever?
If you go multi pitch climbing in either the UK or mainland Europe, then the chances are you will have seen someone using a Simond Cliff rucksack. It is the quintessential multi pitch climbing rucksack with just enough space (20 litres) for climbing shoes, harness, half a rack (your partner will hopefully be carrying the other half), a guidebook, food / water, helmet, a few spare clothes and a rope strewn across the top of it (all of this is only possible if you pack carefully).
So, you can use it to carry the essentials to the crag, albeit for a short walk in because as mentioned above it really is not comfortable. But once you arrive at the crag you can unpack everything leaving an empty but incredibly lightweight rucksack which you will not mind carrying it on your back whilst climbing because it is so lightweight. Or alternatively stash this rucksack inside your partners rucksack (it even packs into its own pocket).
The carry system (back panel and shoulder straps) are extremely basic; they comprise of virtually no padding / foam on the back panel (so beware of packing anything sharp /pointy near your back) with no contouring / shaping for your spine and mesh shoulder straps (great for breathability in hot conditions), again with no padding whatsoever. The result of this is that it is uncomfortable for longer duration walks but the benefit is the weight saving and in the case of the shoulder straps, the lack of padding means there is no bulkiness across the shoulders whilst climbing. It certainly isn't intended to carry significant weight for any extended period of time, although a 20 litre capacity precludes a huge amount of gear it does still mean you could have a rack of hardware and a rope which weigh more than this bag is comfortable with.
The rest of the bag remains almost featureless; there is a small side pocket which is quite handy for a map / guidebook / topo but anything bulky will encroach on the main section of the bag, so the pocket is best used for slim items.
There is a daisy chain running the length of the bag with an ice axe loop / attachment point at the bottom of it, however this is really of limited use because it doesn't come with an attachment point at the top so you have to use the rope compression strap (not ideal) or fashion / create your own with cord / bungee / sling. Although I have used my Simond Cliff with two ice axes attached it really is a bit of faff and not the easiest with gloved hands. I should also point out that this really is not a winter climbing rucksack – it isn't durable enough and the fabric isn't water resistant / repel water, so you'd end up with a bit of a soggy mess (although top tip: if you ever need to increase the water resistance of a pack try washing it in Nikwax or Grangers – they both make products for this purpose).
As mentioned above this bag is not really durable, with rough rock easily scuffing it. However that would be a concern if it was coming in to contact with rock when fully laden, in reality you're more likely to have taken almost everything out of the bag (after walking to the crag) and it will be close to empty whilst climbing meaning it won't be taking the worst abrasion.
The Simond Cliff II rucksack closes via a very simple drawstring but despite its simplicity they've managed to work a couple of innovative features into it. The drawstring can be opened by pulling the two respective pull tabs, opening to give you a wide 'mouth' to access the contents of the bag. This opening / release mechanism is super smooth and easy, making it quick to open even whilst wearing gloves.
However, the rope compression strap buckle is far less glove friendly, even to the point where without gloves it can be a little bit of a pain. A few friends have managed to break this buckle on theirs and it is one of the few areas of the bag where its cheap price is reflected in the design / materials.
The rope compression strap itself is a useful feature (albeit compromised by a slightly rubbish buckle) but it is worth being aware that it is quite small, only just fitting a skinny single rope when the bag isn't full to bursting. Yes, you can coil your rope differently but in reality, it tends to slop around so it might be best to think of the rope compression strap as a useful but not long duration feature.
We have made it this far into the review without mentioning the Simond Cliff II rucksacks best feature – the price! At the time of writing it retails at £14.99 (although you might be able to find it cheaper), in my opinion this is great value for money. Climbing / mountaineering equipment is often marketed as some life changing product that will make you climb 10 grades harder (e.g. climbing shoes) or keep you dry in any condition (i.e. Gore-Tex) and these products invariably never quite live up to the hype, but the Simond Cliff rucksack doesn't claim to make you climber harder it is just a useful lightweight rucksack that might make multi pitch climbing a bit easier (because it is probably lighter weight than your current rucksack) or a bit safer (because you'll be able to carry an emergency jacket in your rucksack rather than leaving at the bottom of the crag).
Top tip: if climbing somewhere with a long walk in then the Simond Cliff II is so lightweight that you can actually carry it in your main (comfy but heavier) rucksack and then decant the essential gear for the route in to the Simond Cliff II bag and leave your other rucksack at the base of the crag for later.
Simond now also make a larger, better featured, more expensive and heavier version of this rucksack but as you might have guessed it loses many of the advantages of this rucksack.
In summary the Simond Cliff II rucksack is a great lightweight rucksack, ideally suited for multi pitch climbing where you need to take some essentials on the route with you or when using the lifts in Chamonix / Alps meaning you (typically) don't have to face a long approach to your route. I've used mine as my bag for climbing shoes / chalk / brushes etc. when bouldering, as a lightweight rucksack whilst multi pitch climbing with a few essential items inside (e.g. guidebook, approach shoes for the descent and waterproof jacket) and as a lightweight mountaineering rucksack when out in winter (although as mentioned above it is best suited to dry conditions).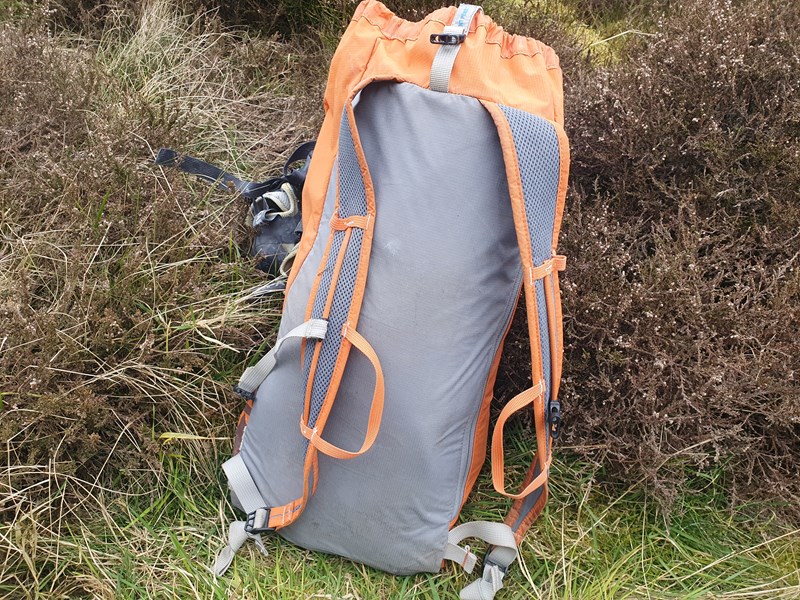 The verdict
The Simond Cliff II 20 litre rucksack is arguably a niche product and there are many more rounded alternatives out there, however if you are after weight saving and at a great price then it is hard to beat. I have loved using my rucksack for climbing and I would definitely replace it with another if it was ever lost / broke.