Rab Alpha Direct Jacket (Men's) Review
RRP:
£200 (Correct on 01/02/18)
Weight:
Rab – 480g
Weighed – 448g (Size small)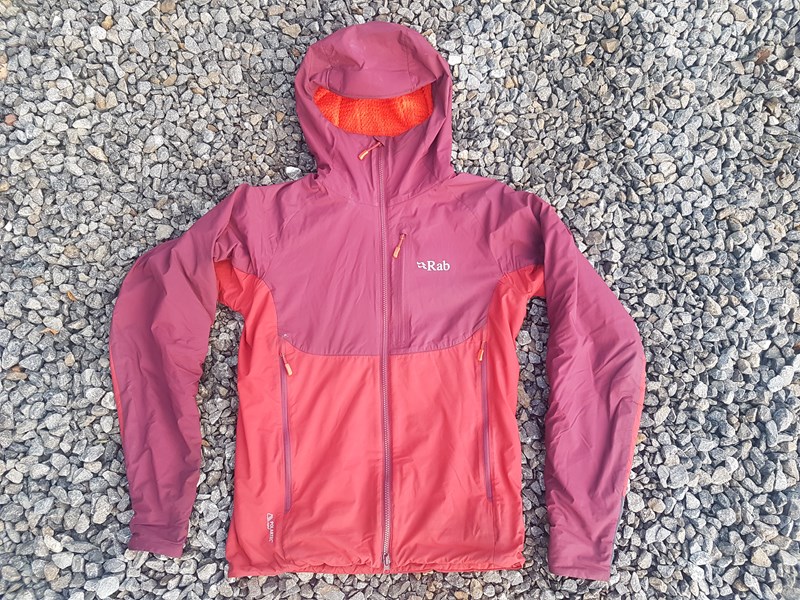 The Review
The Rab Alpha Direct Jacket is essentially a pile-pertex jacket and a good one at that. It uses Polartec Alpha Direct Insulation as a pile lining (to provide warmth and wicking) and a Pertex Microlight outer (to provide wind protection and a small amount of water resistance).
We normally associate synthetic insulation with belay jackets however the Rab Alpha Direct is definitely an active wear piece. The lining, Polartec Alpha 'Direct' 120 insulation, provides excellent warmth but also breathes exceptionally well (because of its construction). At first glance it looks like a fluffy fleece however look closer and you can see small patches of insulation interwoven with a mesh grid. This construction allows the insulation to provide great warmth (because of the high volume nature of it – trapping more air), great breathability (because of the mesh grid it allows air to move through it) and great wicking (the spiky and fluffy nature of the pile allows moisture to be dispersed quickly).
The outer Pertex Microlight provides windproof protection in all but the highest wind speeds and some minimal water resistance. The fabric will shed light snow and very light rain, however it quickly wets out and you'll be reaching for your waterproof jacket. Although if you are keen to avoid wearing your shell jacket then the Rab Alpha Direct does provide reasonable warmth when wet (but it is definitely not a substitute for a waterproof jacket).
The hood on the Alpha Direct is arguably its weakest feature. It is a good shape, provides good visibility and sits nicely around your neck when not in use. However at the time of writing Rab say the hood is designed to fit under your helmet, but there is an excess of volume when you do this and it subsequently flaps around in the wind and is easily blown down in gusts when not under your helmet. To contradict what Rab says; the Alpha Direct does fit snuggly over my helmet (Black Diamond Vapor), providing a really good fit and excellent visibility. It feels like the hood is a bad compromise from Rab and it would have been better if they had committed one way or the other, i.e. make it truly helmet compatible with a volume adjuster (for when you are not wearing a helmet) or make it a proper under helmet hood where it fits snug with no excess volume.
The pocket configuration is a little bit odd as Rab typically have the best pocket layout of any manufacturer (e.g. Rab Latok Alpine is probably the best there is). The 2 hand pockets are easily obscured by a harness and the single chest pocket is easily obscured by a chest strap on a rucksack. This is understandable given where the seam sits across the chest (i.e. directly above the two hand pockets and directly below the chest pocket) but it does mean you often end up moving things from pocket to pocket just to make them accessible.
The cuffs are stretch fleece with low bulk thumb loops integrated in to them. These provide extra warmth on belays etc. (by pulling the thumb loops over it protects your wrists from heat loss) but can also be pulled up (about half way on my forearms) to provide extra ventilation (this is also worth doing whilst climbing as the cuffs have a tendency to rub against the rock and abrade very easily).
Although not exactly a deal-breaker the main zip is a two way zip, but why? This would typically be used on a belay jacket where you wear your jacket over all of your clothing and still need access to your harness. The Rab Alpha Direct Jacket is a mid-layer, not a belay jacket, so it doesn't need a two way zip. Compounding this further is because it doesn't have a press stub at the base of the zip it means the jacket has a tendency to open (from the bottom) throughout the course of a day (typically you notice when a gust of wind blows straight up the front of your jacket).
In summary the Rab Alpha Direct Jacket is a brilliant all round jacket; it breathes, it wicks, it keeps you warm (in most circumstance), its lightweight but it could have been perfect were it not for some glaring design flaws which hopefully Rab will be able to correct on future models.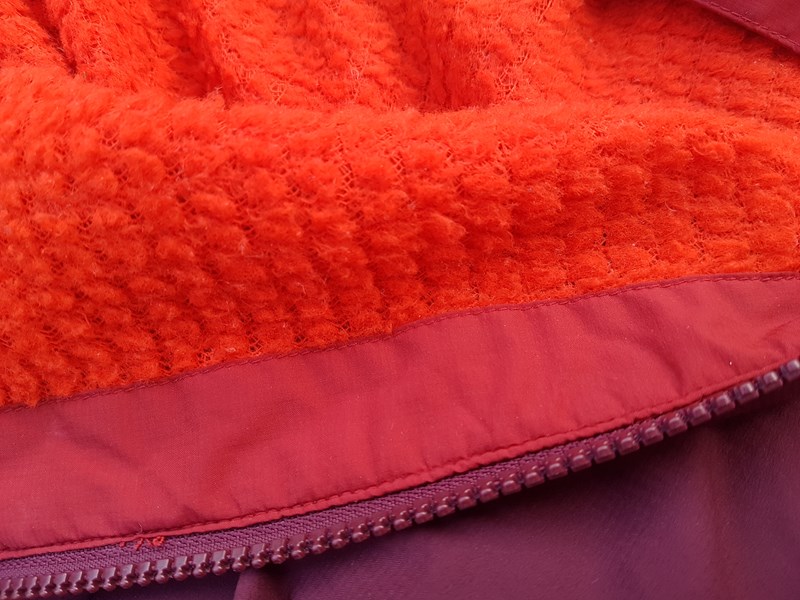 The good
The fabric combination is fantastic, not only does it feel great against your skin it provides weather protection for a wide range of circumstances.
It is lightweight; a total weight of 480 grams for what is effectively a hooded fleece and a hooded windproof.
Construction and design mean there is minimal bulk and seams to interfere with other layers (e.g. base layer and shell jacket).
The fit is good; minimal excess fabric and good arm lift whilst climbing.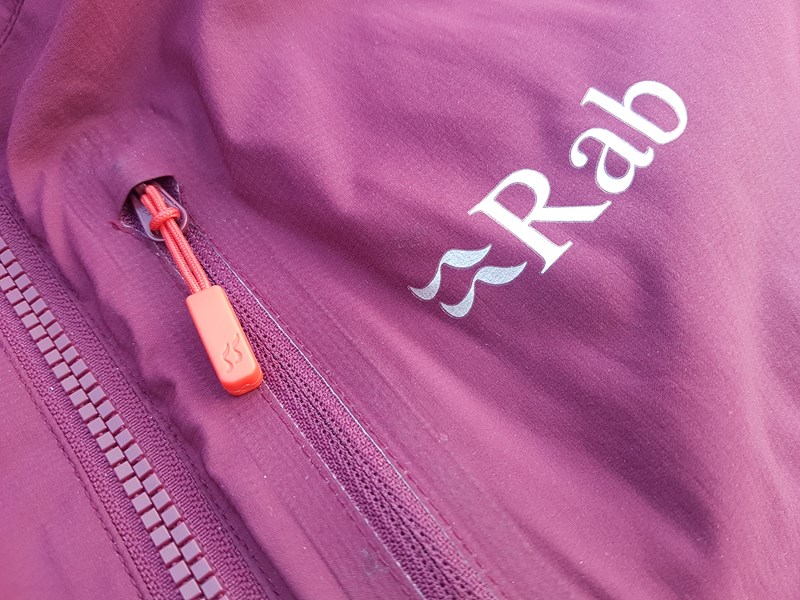 The bad
The hood; it neither works as a helmet compatible hood (due to lack of volume adjustment when not wearing a helmet) and nor does it work as a under helmet hood (due to excess and unnecessary extra volume).
The main zip; it doesn't need to be a two slider and it opens of its own accord.
The pocket configuration means that items aren't always accessible when wearing either a rucksack or harness.
The fabric; whilst the Pertex Microlight outer fabric is excellent it isn't the most durable.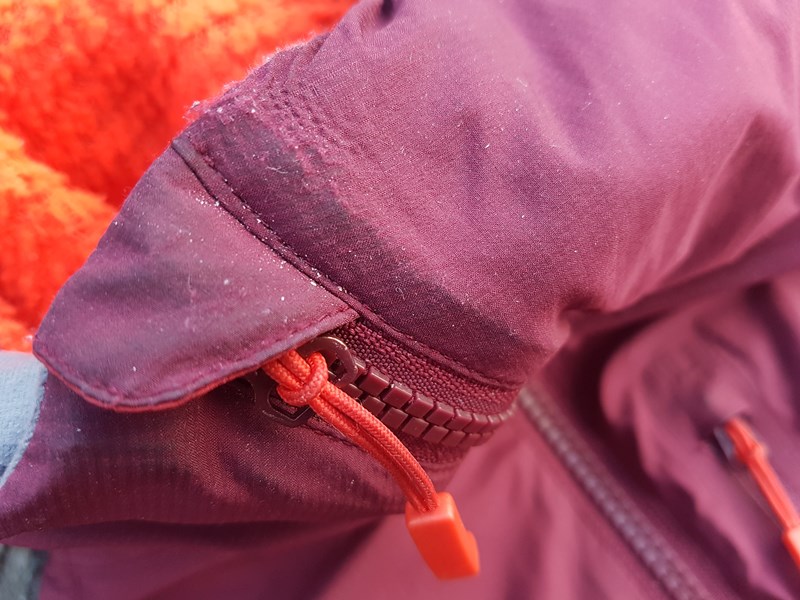 The verdict
The Rab Alpha Direct Jacket is my favourite jacket at the moment, despite the obvious design flaws, it just works. It is comfortable and does everything a jacket like this should do (e.g. breathes, wicks, dries quickly and provides enough weather protection without needing a shell jacket every 5 seconds).